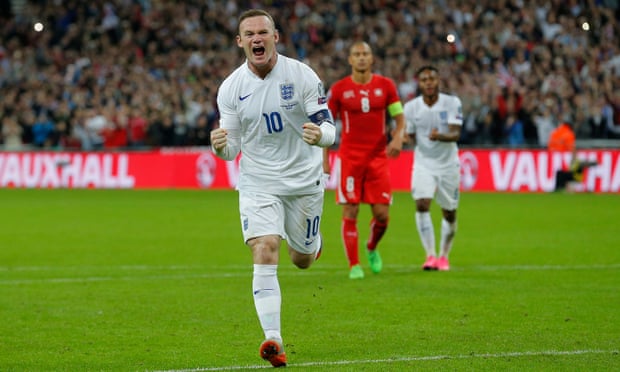 Wembley witnessed history Tuesday night as Wayne Rooney broke England's goal record in a Euro 2016 qualifying match against Switzerland.
As the Manchester United striker thumped a late-minute penalty into Switzerland's Yann Sommer's goal, a record that had stood for 45 years fell into Rooney's ownership. It was his 50th England goal, taking him one above Charlton, and when the ball soared into the net every one of his team-mates was running in the direction of the teary-eyed striker. He had become a legend.
"It's a great feeling," said Rooney, 29. "I've been close for the last few games and it's a dream come true. I was bit emotional. It's a huge honour and one I am extremely proud of.
"I knew it was a big moment and just picked my corner and put my foot through it. To be the record scorer before the age of 30 is nothing I could have imagined."
Bobby Charlton, whose Manchester United record of 249 goals is also being eroded by Rooney, did not hold back his congratulations.
"I would like to congratulate Wayne on becoming England's leading goal-scorer," said the 77-year-old, who was instrumental in England's 1966 World Cup triumph.
"I obviously cannot deny that I am disappointed that I now don't hold this record, however, I am absolutely delighted that it is Wayne, as captain of my beloved club and country, who now holds this record."
Roy Hodgson, England's national team manager said of the feat, "I'm delighted for Wayne Rooney and his breaking of the record, and showing such courage and ability to blast it into the roof of the net.
"His maturity has impressed me, the way he's accepted the captaincy. He's still out there working as hard as the 19-year-old making his way in the game."
Hodgson revealed that Rooney had been presented with a commemorative shirt by the Football Association and had made a short speech to his team-mates after the game.
He is also to receive a golden boot by Charlton prior to England's next game against Estonia at Wembley on October 9.
(14)